Ladies and gentleman....
So, tomorrow night I will be out with Tabitha, without the kids (sweet) and would love to see some familiar faces. We are going to the CD release party of a our dear friend Tom Conlon. It would be like totally tubular if any of you wanted to come and hang with us. Not only do we get hang time, we get to hear some really good music. I know the words "amazing" and "incredible" are bandied about these days like nobody's business, so I won't, but for those of you who know me personally, know that I wouldn't steer you wrong.
Tom's recent album is unique for reasons other than being totally amazing and incredible (I couldn't help it sorry). The entire album was recorded and mixed on an iPhone. A 3G none the less. Just read below and I hope to see you there!
--------------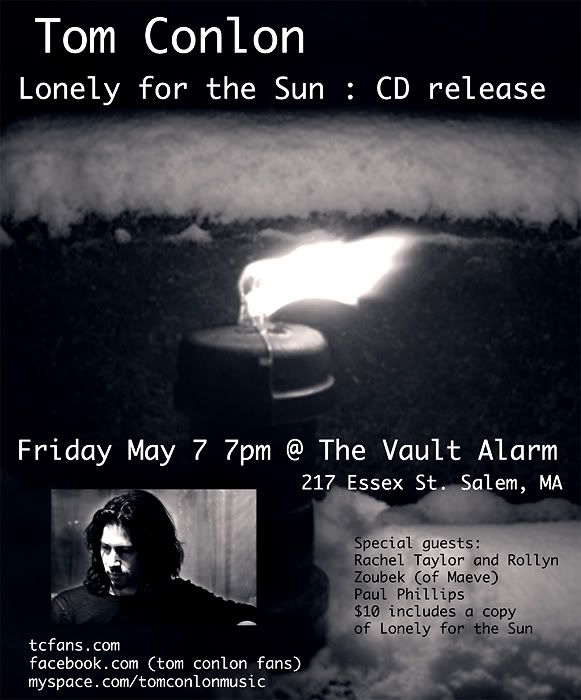 I'm recently home from tour and would like to do my part for drama and
beauty by inviting you to a special evening in Salem, MA to celebrate
the release of my new record: Lonely for the Sun.

I'm excited about this record for a few reasons, not the least of
which is the fact that the entire project was tracked, edited and
mixed on my iPhone. As strange and gimmicky as that may sound, I am
very serious about these songs, the struggle and love that attended
their creation and the shape they took in the process - one that
introduced both radical artistic limitation and great freedom. In the
end, with some help from my friends, the result is a moody combination
of up-to-the-minute technology and good old-fashioned live
performance.

I hope you'll join us as we tell the story.

When: Friday May 7 at 7pm
Where: The Vault Alarm - 217 Essex St. Salem, MA
Who: Me, you and some special guests...

$10 at the door includes a copy of Lonely for the Sun


Peace to you.

Tom